Discover more from Stirred, Not Shaken
Poems, musings and photographs from the surrounds of the Salish Sea.
It struck me as somewhat ironic that I have undertaken the task of identifying the distinct micro-seasons of this slice of the Pacific Northwest I call home while daily, report after report of unusual and surprising weather events are released. Some of them distinct and harsh enough to be termed, 'catastrophic'. Take Otis1 for example. That storm seemed harmless enough on Sunday. And now it is Wednesday, and all I can say is my heart goes out to anyone near Acapulco, Mexico today. We can all hope that Otis degrades as quickly as it intensified.
In a time when the phrase climatological norm is losing its meaning, and predictable seasonal weather patterns are all but disappearing, is it still worth identifying the natural transformations that define specific, five-day designations of time?
Yes.
Because this exercise was never about describing something in order to hold the world to repeat that observed behavior forever. Nothing stays the same year to year. And that is the point. Take a look at what's going on now. Notice it. Appreciate it for what it is, not what you wish it were. You might never see it again. (This goes for people too.)
And, so, without further explanation, I am sharing my 2023 micro-seasons, Four, Five and Six. Actually, before we get to that, more mushrooms arrived (and departed) over the last week. Yes, more mushrooms, because…look at them!
Friday, Oct 20 — a few sets of these parasols arrived at the base of a Western redcedar
and by yesterday, were gone
---
Four - Huckleberry fruits darken:
October 8th - 12th
Discovering that the evergreen shrub I found growing voraciously in the understory and along the edges of the forest on our property was huckleberry made me sigh with relief. At first, I thought it might be yet another invasive species because it is so hearty and pervasive. But by the first fall here, when those dark little berries shined, I had glorious visions of muffins and pies and cobblers. Have I made any such treat with these berries? No. However, I just learned that the berries become their sweetest after the first frost which, I imagine, the birds already know. So I'll wait patiently for the nights to get just a little closer to 32, after which I'll be fighting (in a friendly way) the chickadees and robins to pick those black beauties from their stems.
Five —
Conifers drop their needles
: October 13th - 17th
In my post unveiling micro-seasons One, Two and Three, I referenced the cedar flagging which takes place in the fall. This event is often mistaken for disease of a tree, but is actually a natural and healthy process whereby the conifers prepare to release a portion of their inner needles to allow next year's growth to prevail. Lucky us, because the contrasting amber & rust needle color amidst the lush green branches of the remaining needles is one of the loveliest signals of autumn. And then the needles drop, and the forest floor glows.
Six —
Maple leaves flame
: October 18th - 22nd
I'm not sure if this is cheating, but since this micro-season thing is an exercise I invented for myself, I suppose I can make up the rules. Technically, these are not "native" trees, but that shouldn't mean their amazing transformation doesn't count. I look forward to it every year and it is a marker of time. And it stops me dead in my tracks whenever they reach their full, lambent glory.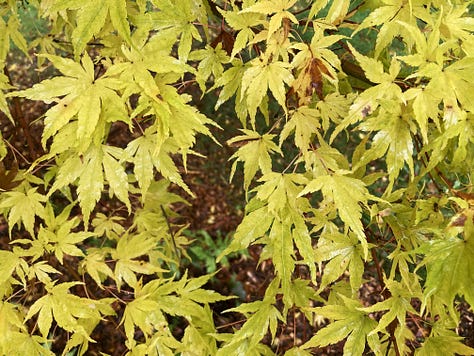 In case you're a person who appreciates a recap:
Collected Micro-Seasons to Date
One — Alder leaves descend: September 23rd - 27th

Two — Blackbirds feast on madrone berries: September 28th - October 2nd

Three — Mushroom caps emerge: October 3rd - 7th

Four — Huckleberry fruits darken: October 8th - 12th

Five — Conifers drop their needles: October 13th - 17th

Six — Maple leaves flame: October 18th - 22nd
As always, I'd love to hear about what's happening in your own slice of the world - what seasonal transformation is inspiring you right now?
Final note: although the sun is sleeping in until 7:30 these days, it is often worth the wait.
1
It's unclear whether the hurricane was named after Otis, one of the bears competing in Fat Bear Week. Regardless, and although I will always be a fan of 747, I congratulate Grazer, whom I did vote for, for winning the 2023 Fat Bear Week competition.